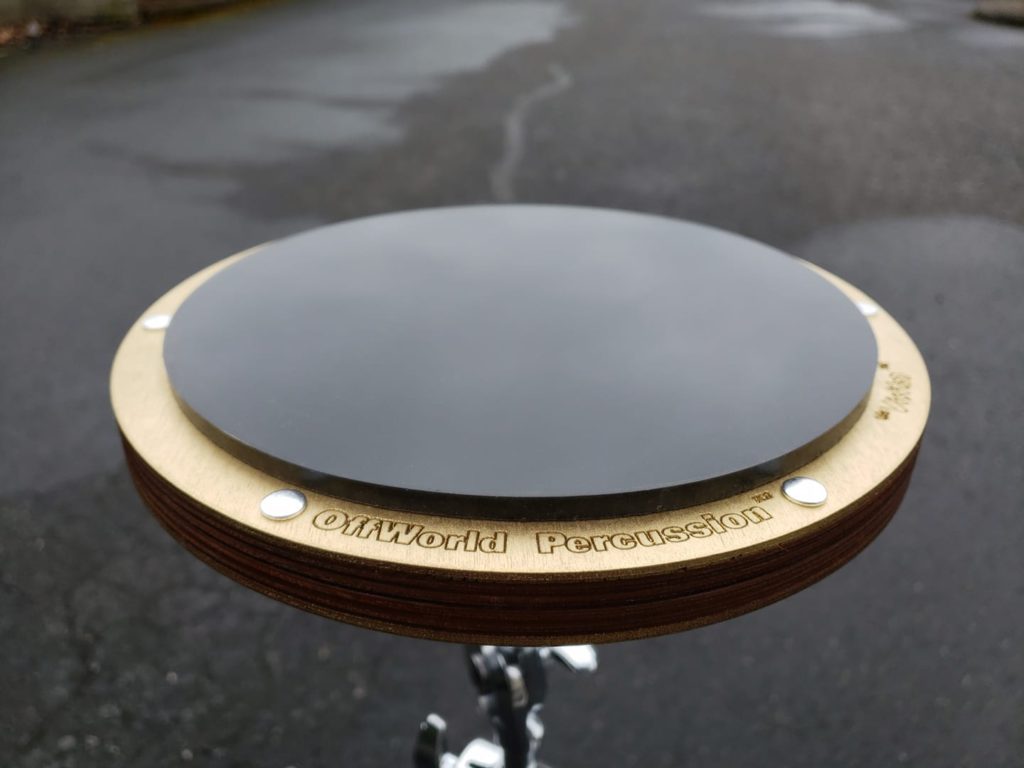 Harnessing the power of magnetism comes the new Aurora™ Series modular practice pads from OffWorld Percussion.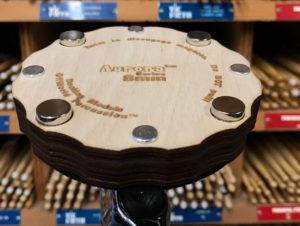 Every Aurora™ Series pad is equipped with OffWorld's unique Magnetosphere Core.  
This feature gives each pad in the series its own personal gravitational field, allowing varying items the ability to quickly connect for these 3 multiple playing modes:
UAV mode (nothing connected) lends each pad a clear musical tone, especially in the

center 4 inches

. The resonant tone in this center "sweet spot" allows you to make a clear distinction when you are playing dead-on, thereby improving your stroke accuracy.
Solar Flare mode (shaker inserted) adds a nice "snare" crunch to each stroke and narrows the variance between center and edge playing.  The shaker has both acrylic and wood faces, allowing for two unique tones.  With the acrylic face down it gives the most crispy feedback.  If you need a bit less, flip it over with the wood face down for a more muted crunch.  If you need a great shaker at your next gig, pop out the module and use it to get that great "shooshy" sound!
Coupled mode (Docking Module inserted) boosts the articulation greatly and increases the tonal variance from edge to center.  This mode also produces a very present and focused sound, perfect for group rehearsals. The module allows for connection to any 8mm threaded cymbal stand (1/4-20 also available) for a quick-docking stable platform for your Aurora™ Series practice pad. A quick TWIST unlocks the gravitational hold and lets you take your pad with you while the Docking Module awaits your return. The Docking Module also has a neoprene bottom, so that if you like the tone it produces but don't want to mount it, leave it inserted and it will sit nicely on any flat surface.
The Visitor™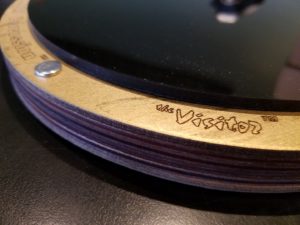 Along with the standard Aurora™ Series features, the Visitor™ is equipped with an 8 inch DarkMatter™ playing surface, which is complimented by the gold finish birch construction and silver rivet accents.
It is 9″ in diameter in total and 1″ thick.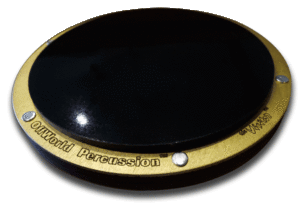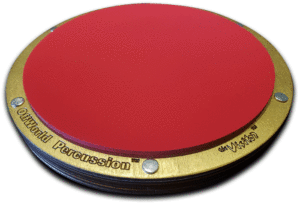 For those looking for something a bit less forward, the Visitor™ is also available with the "Red Dwarf" rubber playing surface, which produces a softer, quieter tone with a bit less variance edge to center.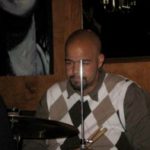 Seriously stoked for these new innovations! It eliminates the need of a snare stand! Portable genius! Sexy pad, sir....sexy pad!
Ronnie LaGrone
Music Educator--West Linn-Wilsonville School District, Colts Drum and Bugle Corps
The Aurora™ Series  – Strut support knee/thigh mount accessory.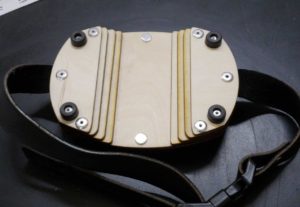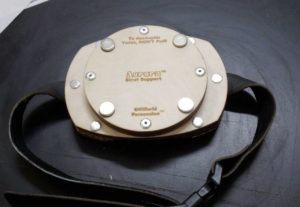 This knee/thigh mount is made with white birch, equipped with quick release leather straps, and utilizes the ultra-strong neodynium magnets to "dock" with your Aurora series pad.
The mount is big enough to fit comfortably across your knee or thigh, yet it is small enough to tuck away when you are a drummer "on the go"!   Buy Now

Aurora™ Series – Docking Module Accessory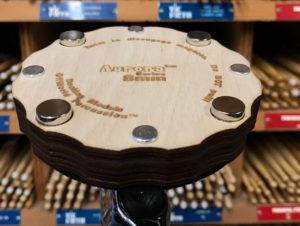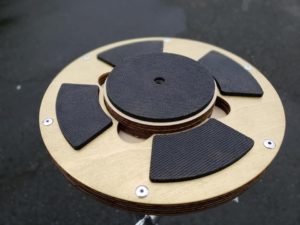 If you already own The Visitor™, this is another version of the Cymbal Mount Puck.
This accessory offers a 1/4-20 thread which is the American standard measurement found on a Camera mount for a tripod.  Buy Now

The Hammer™ – Practice Pad Bracket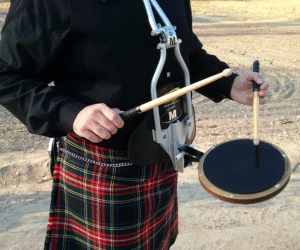 Pipe Band Model: Mounts to Kilpatrick snare carriers
Fits practice pad with 1/4-20 screw hole to mount.
Adjustable forward angle.
Two optional pad positions.
Provides solid support when practicing with snare carrier.
Product # HPB-18 Made by Garrett's Craftworks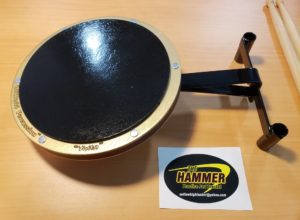 Marching Band Model: Mounts to J-hook style snare carriers.
Fits practice pad with 1/4-20 screw hole to mount.
Two optional pad positions.
Provides solid support when practicing with snare carrier.
Product # HDC-7 Made by Garrett's Craftworks
  Aurora™ Series – The Base Station™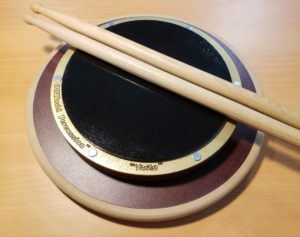 Making a practice pad ultra portable sometimes comes with a sacrifice: The lighter and smaller it is, the more it moves around when playing on the kitchen table. 
Welcome the Base Station™!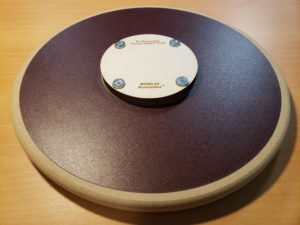 The magnetic center allows for your Visitor™ to dock securely to the incredibly stable 3 lb. wood platform.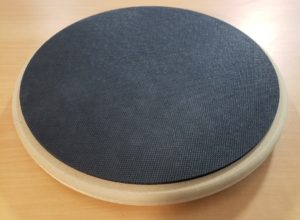 With its non-skid neoprene bottom, the Base Station™ will stay wherever you put it, and at only 12 inches in diameter it can easily sit atop your snare.