OffWorld Percussion
In 2008, a delegation, from a far flung cluster of exoplanets in the Cannis Major Overdensity galaxy, visited the lush green of the Pacific Northwest to sample microbrews and try the truffle fries at McMennemins (a surprisingly common stop for the average intergalactic tourist, and favorite hangout of the Marching community). 
This is where the delegation overheard the brainstorming session between Dave Lauder and Paul Howard: Dave, with years of marching and percussion experience, had an idea; Paul, with tactile ingenuity and years in construction, had a way to make it happen. The trick would be creating a playing surface unlike the standard, time worn natural rubber. 
With a knowing nod to one another, the other-wordly tourists dropped some human currency on their table, approached Dave & Paul, and placed a small flapjack of glossy black material on the table between them.  After tapping out a quick diddle with long, slender fingertips, the delegation slipped away without a word.
Fast forward a few months later to the University of Oregon where, atop a chipped up folded table, the Invader V2 was introduced to the Marching populace. They called the new playing surface DarkMatter™, saying "it would change the world as we know it", and that it was "Like nothing else on Earth!"
Upon our tiny company's invasion introduction into the industry, no one knew how quickly the product would raise the bar, nor how far the virus its influence would spread.
Extra Terrestrial technology?  Ancient alien theorists say "Yes!"
But seriously… The beauty of this business is the community in which we found ourselves.  When these people discover something they love, they go to great lengths to tell everyone they know. With that kind of gracious assistance, we outgrew the tiny 300 square foot garage we worked out of, and moved into a full fledged manufacturing facility.
The additional elbow room has given us the ability to improve and expand our product line to suit the expanding base of percussionists whom we cannot thank enough! 
Our products are truly hand-made creations that are crafted with careful dedication to quality, and to the level of precision that reflects our devotion to the greater percussive art form.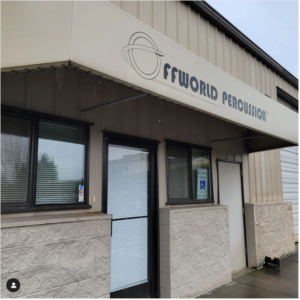 We take great pride, as the manufacturer, in creating our products in the beautiful city of Vancouver, Washington.
Last picture taken.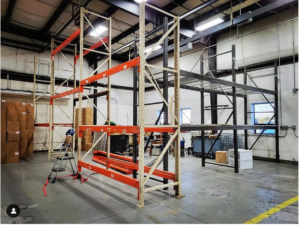 As of February 28th in the year 2023 we bid adieu to the old warehouse and now call this new facility in downtown Vancouver, WA home.
As seen on here.
We are still absolutely committed to producing the most innovative and highest quality percussion implements found anywhere on the planet.
"If you ever find yourself in our neck of the woods, stop by and say hello!"
~ Paul Howard