The Aurora™ Series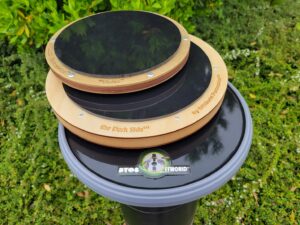 Harnessing the power of magnetism  – comes the new modular practice pads from OffWorld Percussion
Featuring: The Visitor™, The Darkside™, The BYOSphere™, and the Invader V3 Hybrid™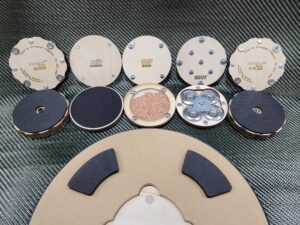 Every Aurora™ Series pad is equipped with OffWorld's unique Magnetosphere Core.  
This feature gives each pad in the series its own personal gravitational field, allowing varying items the ability to quickly connect for these 3 multiple playing modes:
UAV mode (nothing connected) lends each pad a clear musical tone, especially in the

center 4 inches

. The resonant tone in this center "sweet spot" allows you to make a clear distinction when you are playing dead-on, thereby improving your stroke accuracy.
Solar Flare mode (Snare Puck inserted) offers a fully adjustable snare sound with as much or as little "sizzle" as your ear desires, and is more musical in tone than the rocky "crunch" of the Aurora™ Shaker. The new and improved Snare Puck allows the dynamics of the pad to remain present while giving each stroke the edge you want. The Aurora™ Shaker with metal beads is still available as an option when you order, and is also sold separately as an accessory.

Coupled mode (Docking Module inserted) boosts the articulation greatly and increases the tonal variance from edge to center.  This mode also produces a very present and focused sound, perfect for group rehearsals. The module allows for connection to any 8mm threaded cymbal stand (1/4-20 also available) for a quick-docking stable platform for your Aurora™ Series practice pad. A quick TWIST unlocks the gravitational hold and lets you take your pad with you while the Docking Module awaits your return. The Docking Module also has a neoprene bottom, so that if you like the tone it produces but don't want to mount it, leave it inserted and it will sit nicely on any flat surface.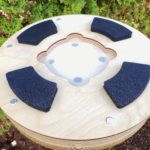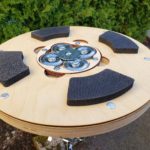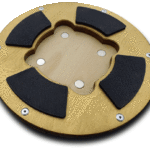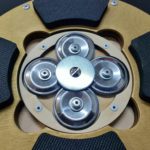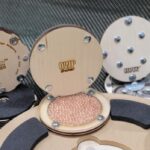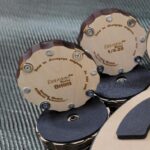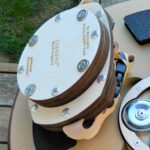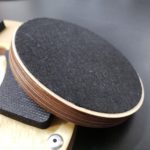 The BYOSphere™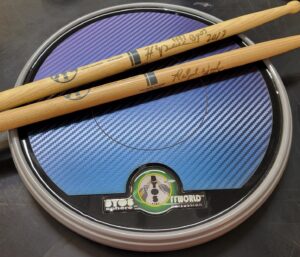 From the far reaches of the OffWorld universe – where the intersection of passion, technology, and style meet – comes the BYOSphere™. 
Representing the next wave in your rehearsal experience. Buy Now
The BYOSphere™ offers the popular features of our Outlander™ Large; the advanced modular design of the Aurora™ Series; and is partnered with the visual flair of the incomparable BYOS™ team.
Features include: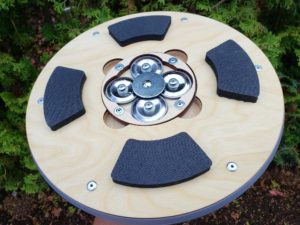 11 1/2″ overall diameter to easily fit in any backpack
10 1/2″ DarkMatter™ playing surface *(new feature for 2022)
A "cool gray" version of our patented Rims™ component over a MDF base *(new feature for 2022)
Comes standard with our adjustable Aurora™ Snare Puck, and the 8mm Docking Module
Will work with all the interchangeable Aurora™ Series inserts.
Black, Gunmetal, Blue Chameleon, or new 3D Blue VML™ can be added to the Darkmatter surface.
The Darkside™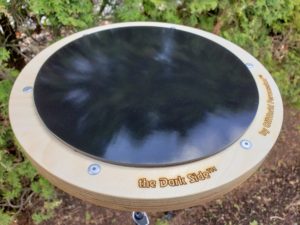 The Darkside™, is about  3 Lbs., 11 1/8″ in diameter, with a 9.25″ Darkmatter™ playing surface.
It is 1 1/2″ tall with thicker layers over the center core, than the Visitor™, to give you a more reactive playing surface.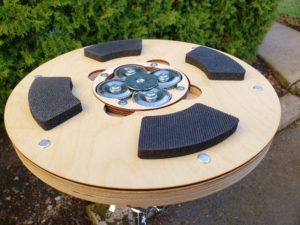 Over all, the Darkside™ provides enough bulk to create a stable and responsive playing experience, yet still be sized for easy fit in any backpack or gear bag.
This comes standard with a 1/4-20 Cymbal stand adapter (aka Docking Module), and the adjustable Snare Puck.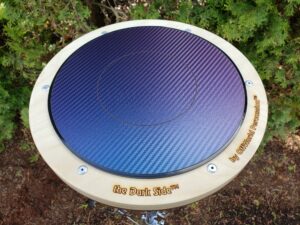 All other Aurora™ Series accessories can be adapted to the Darkside™, which is also available in Black, Gunmetal, Blue Chameleon and 3D Blue VML™ surfacing. 
The Visitor™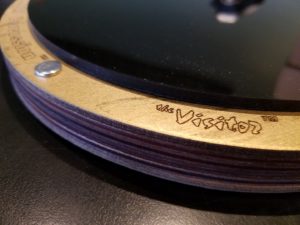 The Visitor™ is equipped with an 8 inch DarkMatter™ playing surface, which is complimented by the gold finish birch construction and silver rivet accents.

It is 9″ in diameter, 1″ thick, and weighs about 3lbs.
This comes standard with a 1/4-20 Cymbal stand adapter (aka Docking Module), and the adjustable Snare Puck. It is also available in Black, Gun Metal, Blue Chameleon, and 3D Blue VML™ surfacing.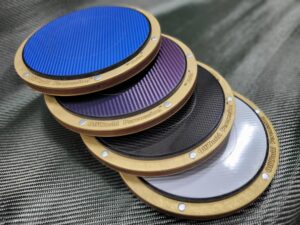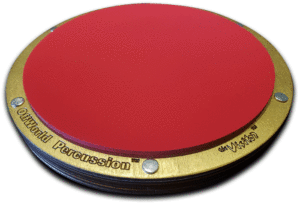 For those looking for something a bit less forward, the Visitor™ is also available with the "Red Dwarf" rubber playing surface, which produces a softer, quieter tone with a bit less variance edge to center.