The Mothership™ Tenor pad
The Mothership™ Tenor pad is one of the most portable of its kind.  Weighing in around 14 lbs, with a folded dimension of under 2 foot square, you won't be overloaded when getting from point A to point B!
When fully open, the locally manufactured heavy-duty steel center clamp holds the whole unit solid as a rock.
The newly improved 6 DarkMatter™ playing zones are chambered to produce variant tonal response. The increased thickness of the Birch plates has increased stick response on the Darkmatter™ and raised the pitch across tonal zones. 
Constructed of white Birch hardwood ply with Burgundy stained playing zones, aluminum rivets, steel hinges and rubber feet, this Mothership™ looks as great as it plays.
*Available for purchase as an accessory is a Mothership™ Replacement Clamp, just in case yours ever goes missing. There is a 3 part metal clamp that holds the Mothership™ in an open position flat – this is the loose center piece to lock the other two in place. Buy Now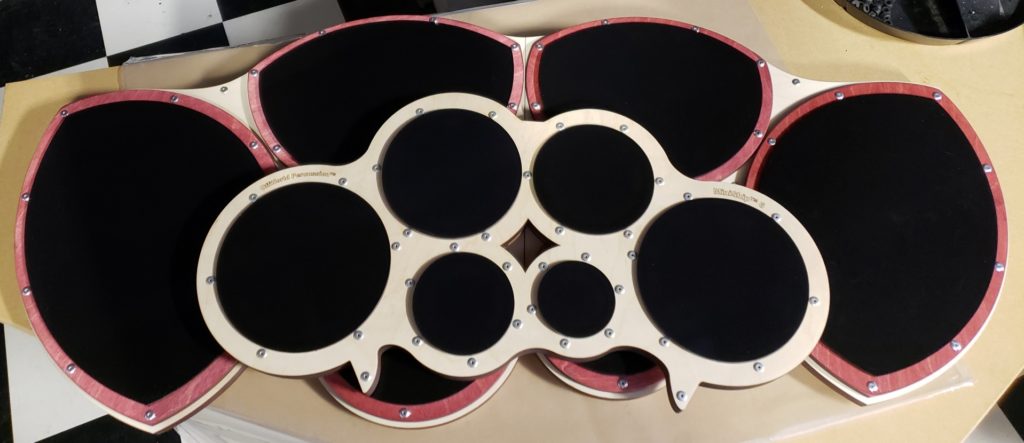 The MiniShip 6™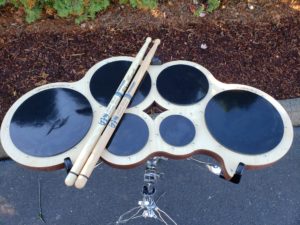 A fully tonal half scale sextet pad designed specifically for the person who writes tenor parts or wants a really portable tenor to work out ideas.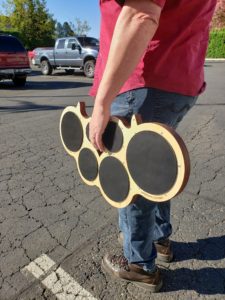 At just 4lbs. and 24″ long, you can take it with you anywhere, and easily tuck it out of the way when not in use. 
It is also physically designed to be tightly gripped on a snare stand. 
Made from white birch with DarkMatter™ playing zones, this little beast is as nice to look at as it feels and sounds to play on.