Invader V3 Series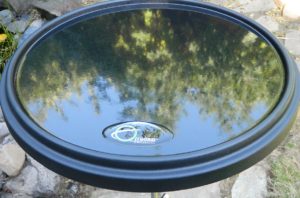 The flagship of the OffWorld Percussion fleet is the Invader™ V3 Series pad.  Originally catering to the needs of the marching world, the Invader™ V3 represents the apex of rehearsal tools.
Among the features that make the Invader™ so desirable is our signature DarkMatter™ playing surface.  This advanced polymer is a custom material that comes as close to replicating the feel of playing on a Kevlar style marching head as any that have come before. Videos
Another key feature is our patented Rim available in Black, Red and Blue.  Nearly unbreakable, and designed to inflict far less damage to sticks than metal rims, the Invader™ V3 rims produce great shots at a volume and tone that allow for clear distinction between the shot and the amazingly articulate DarkMatter™ surface. Testimonials!
When the executing of rim shots on the rim produces a level of volume beyond what is appropriate in certain practice situations, you can just flip it over to drum on the bottom surface which is a non-slip, 1/4″ thick, medium density, recycled black rubber. Buy Now
At 13.75″ inches in diameter, the V3™ fits comfortably onto a 14″ inch drum while offering as close to actual snare surface area as possible.  At 5 pounds, there is enough weight and heft to provide a solid, stable foundation beneath your sticks, offering a truly satisfying experience for players of all levels.
When 90% of your playing time is spent on practice pads, having a rehearsal analog that replicates the drum on which you perform is of enormous importance and benefit.  By shrinking the gap between rehearsal and performance, the Invader™ series has redefined the practice pad from accessory to an indispensable tool to improve your craft.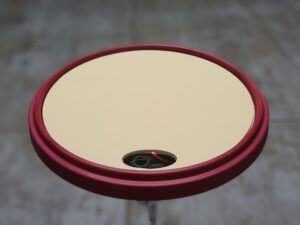 The INVADER™ V3GR combines Offworld Percussion's signature Invader™ Rim technology with the more established feel of authentic gum rubber. The Invader™ V3GR allows for a further augmented rebound favored by more kit-based and traditional drummers, without sacrificing proper technique. Buy Now!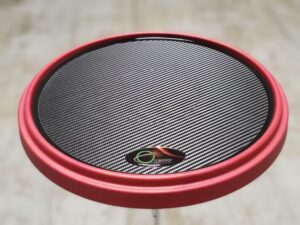 The INVADER™ V3 VML™ is available with a Black, Gunmetal, Blue Chameleon (a color morphing feature where the colors visually shift from purple to blue to green depending on the angle), OR our new 3D Blue Vinyl/Mylar Laminate surfacing.
The VML™ covers the full span of a 12″ diameter playing surface, maximizing volume and articulation across the entire pad.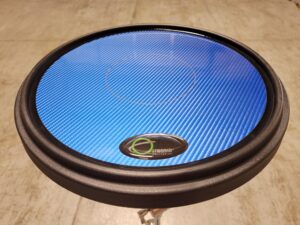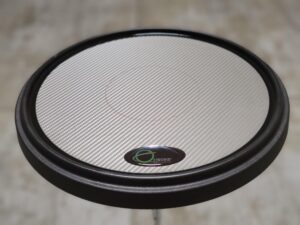 The Mylar base, which provides all the performance functionality, is a robust 14mm thick.  This material is, for all intents and purposes, nearly indestructible under normal playing conditions. By contrast, the Vinyl top is actually a fairly thin material, originally designed for use as an auto-wrap, and is meant to serve as "paint", giving the VML™ its visual appeal.  BUY NOW!
The INVADER™ V3 Hybrid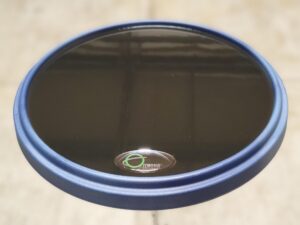 From the top, this pad is, for all intents and purposes, an Invader™ V3.  Featuring: our practically unbreakable stick-saving rim; our proprietary DarkMatter™ or natural rubber surface. Everything you have come to expect from nearly 12 years of excellence! But wait, there's more… Flip the pad over to discover the Aurora™ Series
Magnetosphere™ core.  Our unique magnetic pocket turns the beloved Invader™ into a behemoth of rehearsal flexibility.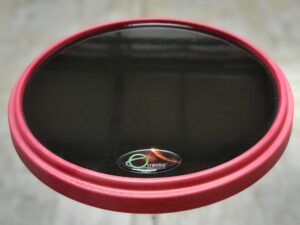 When played without inserts, the Magnetosphere™ core gives the Hybrid a vibrant and clearly resonant center; articulate and musical, you'll know without looking when you are playing dead-on.  Thirsty for a bit of snare sound?  Insert the Aurora™ Series Snare puck for a bright sizzle.  For a bit more crunch and darkness to the tone, try the Aurora™ Series Shaker instead. Want to use a cymbal stand or even an inexpensive camera tripod as a pad base? Try one of the Cymbal mount inserts (check your stand to determine the necessary thread).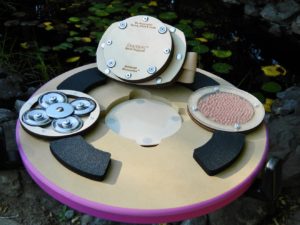 The 1/4-20 mount also spins right down onto the Hammer™ carrier brackets to get your pad up and moving for use with your marching harness.  For those that prefer the leg/thigh mount pads, try the KSM adapter.
Need a little less volume or center tone?  Try the Aurora™ Series Dampener puck. 
(Fuschia color, in this photo, no longer available)
System Blue®/SCOJO™ Signature INVADER™ V3

Offworld Percussion joined forces with the renown Blue Devils System Blue® and legendary marching percussion guru Scott Johnson to create a unique version of the INVADER™ V3.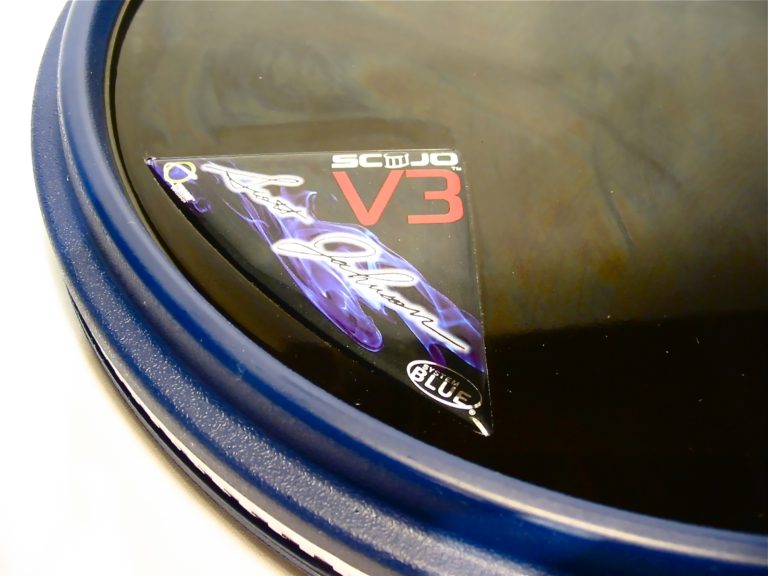 This pad is augmented with a slick Silver/Black authentic Carbon Fiber Oval (CFO) at the 12 o'clock position, designed for enhanced volume and articulation.
It features Offworld's Patented 360˚ stick-saving rim finished in the Blue Devils' signature Cobalt Blue, a Darkmatter™ playing surface, and a non-slip, 1/4″ thick, medium density, recycled black rubber bottom. Buy Now
The Tap-Off is a one-of-a-kind drumming practice tool that is the result of over a year of development between Tapspace and OffWorld Percussion. This unique, dual-surface practice pad combines the best of two worlds.
The main surface of the pad is a customized orange gum rubber, perfect for players who want to focus on practicing with active rebound. Even with its lively bounce, this surface has been designed to provide an audible articulation from the sound of the wood underneath. The black oval near the top of the pad is filled with OffWorld's own signature Darkmatter. This surface closely resembles that of a modern marching snare drum, allowing rudimental players to practice on a harder, more articulate surface.
The pad also features a 360-degree stick-saving rim element. This high-impact, industrial strength nylon composite matrix is abrasion and weather-resistant. A non-slip foam base attaches underneath the pad and is actually one more extra soft playing surface.
Visit Tapspace to purchase – Click Here
Also available is the Tap-Off Mini. Who says size doesn't matter? Compared to the original Tap-Off, it's over 30% smaller, and over 50% lighter. It's ultra portable and surprisingly quiet compared to larger pads. Underneath, there's a non-slip foam base which can actually act as an extra soft playing surface.